The e-bike Motor Control Project is one of the most interesting project by Soft-in.
Three years ago an important customer ask to us the development of a compact controller for e-bike. Our teams have realized the software and hardware part of the project.
Can you find below the Soft-in Contribution:
Full hardware design based on TI's «Piccolo» DSPs.
Bare metal development (no OS)
Asynchronous 3-phase motor controller development
Sensor-full (Hall sensors) and sensor-less (back EMF) operation
PID control for current and velocity
Speed limiter for e-bike (25 km/h maximum legal speed)
Power limiter for e-bike (250W maximum legal power)
High performance (without limiters, reaches 40 km/h)
Power derating for temperature protection
In addition to the software and hardware part, Soft-in has realized the Graphical LCD for user operation and internal tuning. The challenge concerned, in addition to the technical part, also the dimensions of the objects made, which had to adapt to a bicycle.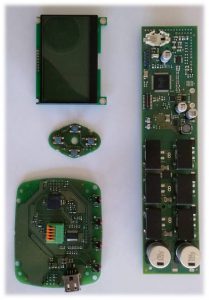 Today the most interesting challenge would be to update and develop the original project with the most advanced technologies.
One of the upcoming Soft-in challenges?